We just two black women talkin' and makin' mess in the kitchen.
Our Kitchen
Though raised in different decades, with varied experiences, we share a love for food, culture, black people and one another. We both have clear and poignant memories of being in the kitchen, and whether we were being shoo'd away from pots or elbow deep in flour, it is those memories that have shaped us as women, as educators and have become significant parts of our being. In the kitchens of our mothers, grandmothers and aunties, we found sacred and safe space. When we share this space, whether it be with our families, our students, or just as two sister-friends, we carry with us the presence of our ancestors. It is with their stories, their laughter, their tears and their legacies that we season our pots.
And we invite them back into our kitchens, time and time again.
In many ways, ours is an age of cultural disconnect, yet there is an increasing yearning to draw closer and to the people and things that help us remember who we are and where we came from. But we are brought back every time we sit at the kitchen table, preparing meals, sipping tea, pulling recipes and anecdotes from books and poems, calling forth the past; bringing it lovingly into the present. We reclaim a little more of ourselves every time we come together. On one such occasion, Shivon shared a desire to bring our experiences in the kitchen to young women through cooking and writing. In turn, Khaliah revealed her longtime dream of documenting her experiences as a Black woman through poetry and recipes. Shivon was delighted to be able to reach across the table to pass on one of her favorite books, Vibration Cooking: or, the Travel Notes of a Geechee Girl by Vertamae Smart-Grosvenor. In those pages we found familiarity, validation, comfort and freedom.
This project is important to us because we want to share that feeling with the young women in our community. If women are truly the water of revolution, then we have found our purpose in inviting the next generation of aunties and mothers into our kitchen. Utilizing stories told through and over food, we seek to take a small step in reestablishing a connection to our culture, one another, and all our mothers before us. We seek to celebrate our black womanhood and eat well while doing it.
In search of freedom, we find ourselves in our mothers' kitchens.
In search of our mothers' kitchens, we find our own.
much love,
Khaliah and Shivon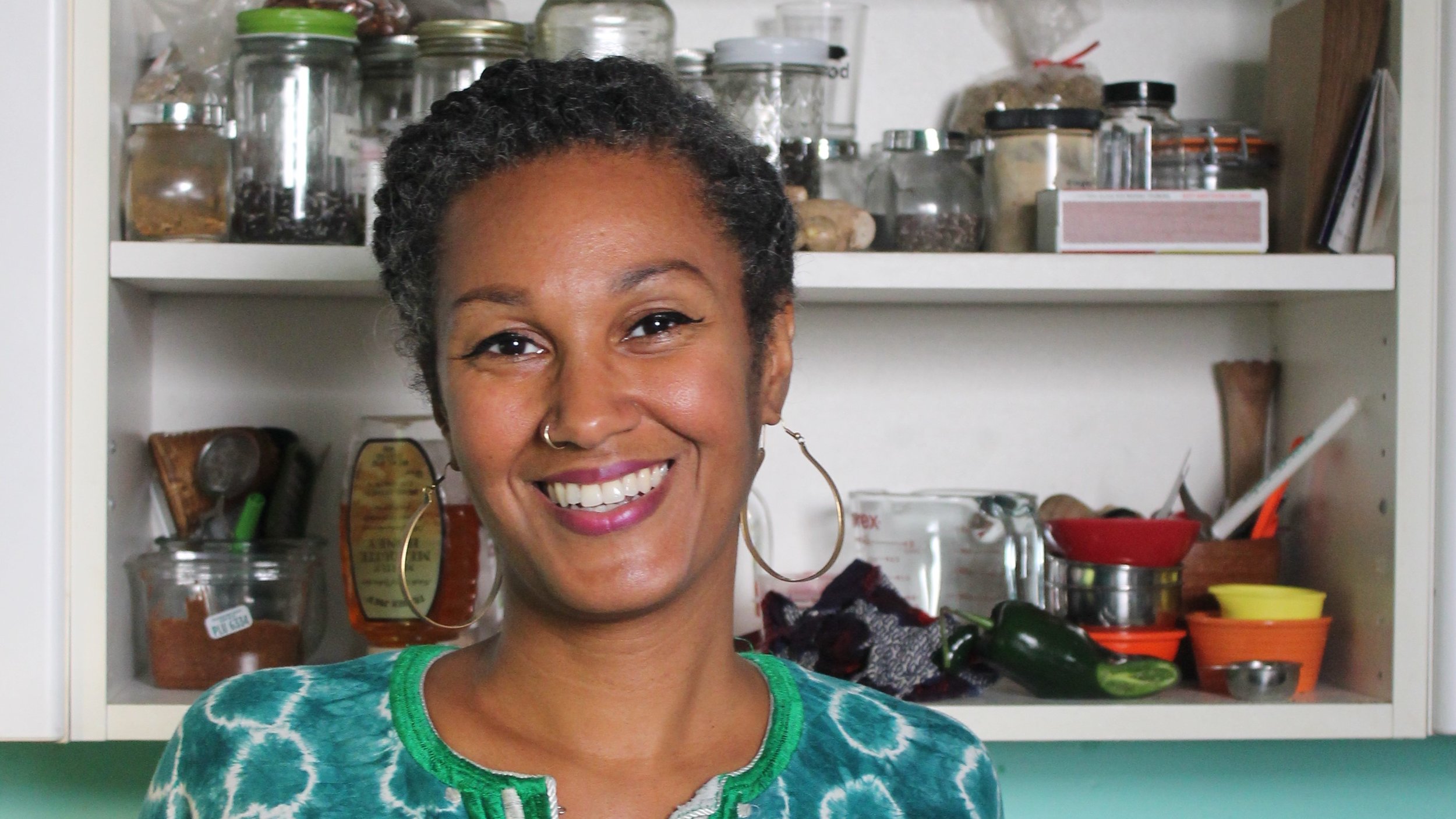 Shivon is a mama of two and a community educator. A lifelong Philadelphian, Shivon advocates for black and brown communities to take agency over their health and wellbeing. Her work is rooted in the belief that collectively black and brown folk can and will sustain vibrant and self-sufficient lives.
Shivon is in the research phase for a forthcoming childrens' book centering food and black heritage.
Khaliah is a Philadelphia native and lifelong artist. She attended the Philadelphia High School for Girls where she discovered a love of music and cultivated her skills as writer and performance poet. In 2011, she graduated from Temple University with a Bachelors in Public Health and began her career as a health educator. She has taught sexual health and nutrition and now focuses on facilitating spaces of cultural liberation through food and art. In the summer of 2015, she began co-hosting "Young Voices Young Minds" a series of Connecting the Dots on HarambeeRadio.com with her younger sister. She recently received her Masters of Public Health from Temple University, concentrating in Epidemiology and Biostatistics. Currently, Khaliah is putting together her first poetry manuscript and writing a science-fiction novel. Find her artistic endeavors at soundcloud.com/thekdp and on Instagram @the_kdp.
Photography provided by Adachi Pimental